Poetic Whispers
Leon Gurvitch, solo piano & composition
Poetic Whispers

Hommage a Stravinsky

Autumn Song

November (improvisation)

Impressions from Concerto de Aranjuez

G. Faure. Pavane

Rainy (improvisation)

Erik Satie. Gymnopedie Nr. 1

Reflections (improvisation)

A. Piazzolla. Oblivion

A. Piazzolla. Milonga del Angel

Lonely (improvisation)
Notizen von Leon
Die Idee zu diesem Album "Poetic Whispers" entstand vor zwei Jahren, aber ich lebe mit einigen Stücken schon seit ungefähr 10 Jahren. Poetic Whispers ist eines davon. Ich kam 2001 nach Deutschland, das Stück schrieb ich 4 Jahre später und verarbeite mit dieser Komposition all die Gefühle, die ich in meinem neuen Leben in einem zunächst fremden Land hatte.
Heimweh, Nostalgie, Traurigkeit aber auch Hoffnung auf ein besseres Leben. Das melancholische Gefühl meiner Anfangsjahre verließ mich nie, vielleicht ist ein Leben ohne diese Stimmung auch kaum vorstellbar, dazu ist das Leben zu vielfältig. Da wo Licht ist, ist auch Schatten. Freude kann schnell in Traurigkeit umschlagen. Diese Stimmungswechsel reflektiert mein neues Album. "Poetic Whispers".
Piazzolla passt da gut ins Bild. Die Musik des argentinischen Meisters zelebriert genau diese Spannung zwischen Verzweiflung und Liebensfreude. Seine Musik entspricht mir sehr. Die Natürlichkeit seines Ausdrucks und die heilende Kraft der Melancholie.
Freiheit ist ein wichtiges Thema für mich. Auch beim Musizieren. Improvisation ist Ausdruck davon.
Das Album vereint meine Kompositionen mit denen klassischer Komponisten wie Satie oder Fauré. Mit Stravinsky fühle ich mich sehr verbunden. Ich denke, er war überall zuhause aber auch überall fremd. Seine Wurzeln liegen wie meine in der russischen Kultur.
Ich trage ständig Musik, Melodien in mir. Meine eigenen Kompositionen entstehen oft spontan. Autumn Song habe ich erst eine Woche vor der Aufnahme komponiert. Ich kann nicht genau sagen, was das Aufschreiben dieser Melodie ausgelöst hat. Die Emotion, die Stimmung war einfach da und ich setzte sie sehr schnell auf Papier.
Ich glaube, das war das Stück, was das Album vollständig machte.
Musik schreiben und spielen ist mein Lebenselixier.
Released by Centaur Records. 2017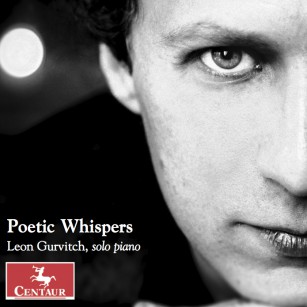 Poetic Whispers
Leon Gurvitch, solo piano & composition
Poetic Whispers

Hommage a Stravinsky

Autumn Song

November (improvisation)

Impressions from Concerto de Aranjuez

G. Faure. Pavane

Rainy (improvisation)

Erik Satie. Gymnopedie Nr. 1

Reflections (improvisation)

A. Piazzolla. Oblivion

A. Piazzolla. Milonga del Angel

Lonely (improvisation)
Notice from Leon
The idea of this album "Poetic Whispers" appeared 2 years ago but
I have composed some pieces since about 10 years. "Poetic Whispers" is one of them.
I came from Belarus to Germany in 2001.
Homesickness, nostalgia, sadness but also hope for a better life.
The melancholic feelings of my first years abroad have never left me.
Where there is light, there is always shade.
These changes of mood reflect my new album "Poetic Whispers".
Astor Piazzolla matches this image quite well. The music of the Argentinian master celebrates exactly the tension between despair and vitality. I admire his music a lot.
Freedom is an important issue for me, also by making music.
Improvisation is its best expression.
The album combines my compositions with those by classical composers like Erik Satie or Gabriel Fauré. I feel a close connection with Igor Stravinsky. I think he was at home everywhere and at the same time everywhere a stranger.
I always carry music, melodies in me. My own compositions often arise spontaneously. I composed "Autumn Song" a week before the recording. I believe this song made the album complete.
To write and play music is my elixir of life.
Released by Centaur Records. 2017